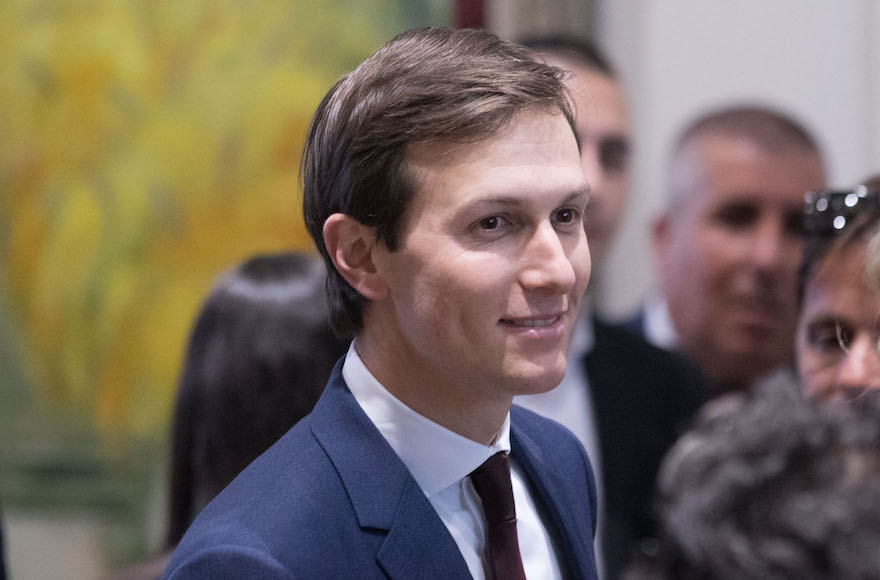 (JTA) — Jared Kushner's status as a top aide to President Donald Trump was used to lure Chinese investors to his family's real-estate company, even after the firm had apologized for mentioning Trump's name during a sales pitch in May, CNN reported.
References to Kushner are part of online promotions by two businesses that are working with Kushner Companies to find Chinese investors willing to invest in the 1 Journal Square development in exchange for a U.S. visa, according to the CNN report published Friday.
The promotions for the apartment complex in Jersey City, New Jersey, just outside New York City, are posted in Chinese and refer to Kushner Companies as "real estate heavyweights," going on to mention "the celebrity of the family is 30-something 'Mr. Perfect' Jared Kushner, who once served as CEO of Kushner Companies."
Kushner, who is Jewish, is the son-in-law and senior adviser to Trump. He used to run Kushner Companies before taking key positions in Trump's campaign and administration.
One ad posted online in May by the company U.S. Immigration Fund, a private business based in Florida, also contains a reference to Kushner's appearance on the cover of December's Forbes magazine under the headline "This guy got Trump elected." The post was removed shortly after CNN contacted the company for comment.
The promotions are aimed at bringing in investors who pay at least $500,000 apiece and in exchange get U.S. visas, and potentially green cards, for themselves and their families if the development meets certain criteria. The deals are part of a U.S. government program called EB-5, which grants up to 10,000 immigrant visas per year.
"What is not authorized is any arrangement where someone gets preference for their visa if they give money to a company that is controlled by the family of a United States government official," Richard Painter, a former chief ethics lawyer for President George W. Bush, told CNN. Yet "that implication was made in the selling efforts for this project."
A Kushner Companies spokesman told CNN: "Kushner Companies was not aware of these sites and has nothing to do with them. The company will be sending a cease and desist letter regarding the references to Jared Kushner."
In May, Nicole Meyer, Jared Kushner's sister, appeared to use her brother's name during a promotional tour in Beijing to attract Chinese investors to the 1 Journal Square project.
"In 2008, my brother Jared Kushner joined the family company as CEO," Meyer told a crowd, adding he "recently moved to Washington to join the administration." The comments coincided with a visual display, which included a photograph of Trump.
On June 1, three Democratic lawmakers wrote a letter to the president of Kushner Companies, Laurent Morali, asking for an explanation on the company's ongoing use of the EB-5 program and the nature of its relationships with U.S. Immigration Fund and another Chinese firm, Qiaowai, whose promotional material included references to Kushner and Trump.
Kushner Companies has not responded to the letter, the office of Sen. Patrick Leahy, D-Vt., told CNN.